Japanese indigo textiles workshops in Fujino, 2020
What's included:
10 nights* (based on shared occupancy)

Most meals are included (breakkast, lunch and dinner) excepting a couple of nights at local restaurants and during Tokyo days

10 days of workshops, lectures and discussions with Bryan Whitehead, Indigo Expert

On the first day guided tour of the Tokyo Folk Craft Museum

A shopping trip to Tokyo to Nippori (fabric district) and for Shibori and other craft supplies

Katazome Stencil workshop with 6th generation Katazome Master

Home cooked Japanese meals

Transport during workshop
*Rooms are shared with one other person. Unfortunately, there is no opportunity for single rooms. The first and last nights are hotel accommodation in Tokyo (please make your own arrangements) and the remaining 10 nights are farmhouse accommodation in Fujino.
The workshop is limited to 12 people, limited places remaining.
Located in the beautiful mountain village of Fujino, one of Japan's 100 most scenic villages, just outside of Tokyo, this 12-day workshop is the perfect introduction to Japanese textiles.
The workshops principle areas of interest are Shibori resist dyeing and Katagami stencilling, but the class covers so much more than that…
Savouring and appreciating old Japanese textiles that were made by anonymous craftsmen gives you a glimpse into a distant, rich and unique cultural heritage. It is a refreshing break from our consumer lives to know that there are people who dedicate their lives to creating these unsigned masterpieces. There have been, and thankfully still are artisans to whom self-promotion is an unknown practice. It would be wonderful to run the workshop retreat with this spirit.
The workshop is for twelve days. The first day is an introduction to Tokyo and textiles. Then, once unpacked at the farmhouse, you will dive in and start to swim in the deep purple indigo. You'll be splashing around in the vats until it is time to re-pack your bags. Hands-on, or in this case 'hands-in,' is the best way to know what indigo is about. The last day is on Tokyo, visiting supplies shops so you have lots of goodies to continue your practice with at home!
This workshop is a great introduction to indigo dyeing and Japanese textiles in general.
For those individuals considering setting up an indigo vat at home, this is an excellent opportunity to learn the basics.
The material covered in the workshop is also a hands-on introduction into Japanese culture in general. The ideas and technical approaches to textile work share the same ethics and standards as Japanese artistic disciplines. Bryan Whitehead, the workshop leader, indigo dyer and shibori expert, will share his insights into Japanese culture and history and the other wonderful things that have kept him in Japan for over 30 years.
Your teacher, Bryan Whitehead
Originally from the West Coast of Canada, I have been living in Japan for over 30 years, farming and processing indigo for 24 years, and rearing silkworms for 20 years. The silk cocoons are reeled into thread, dyed with natural dyes and woven into Japanese textiles using traditional tools.
I run a small textile school at my 150-year-old farmhouse that focuses on indigo dyeing, natural dyes, shibori, stencil dyeing (katazome), thread making from silk cocoons, and weaving on traditional Japanese looms. The farmhouse is situated in a serene tea-growing mountain village just outside of Tokyo. The village was designated as one of 'The Most Scenic One Hundred Mountain Villages in Japan'.
Spring and autumn are beautiful times of the year here and I hold the workshops in these few months. The rainy season is from June to mid-July and it is sweltering. The winters are freezing cold in this old house. The months I can have guests at the farmhouse comfortably is limited.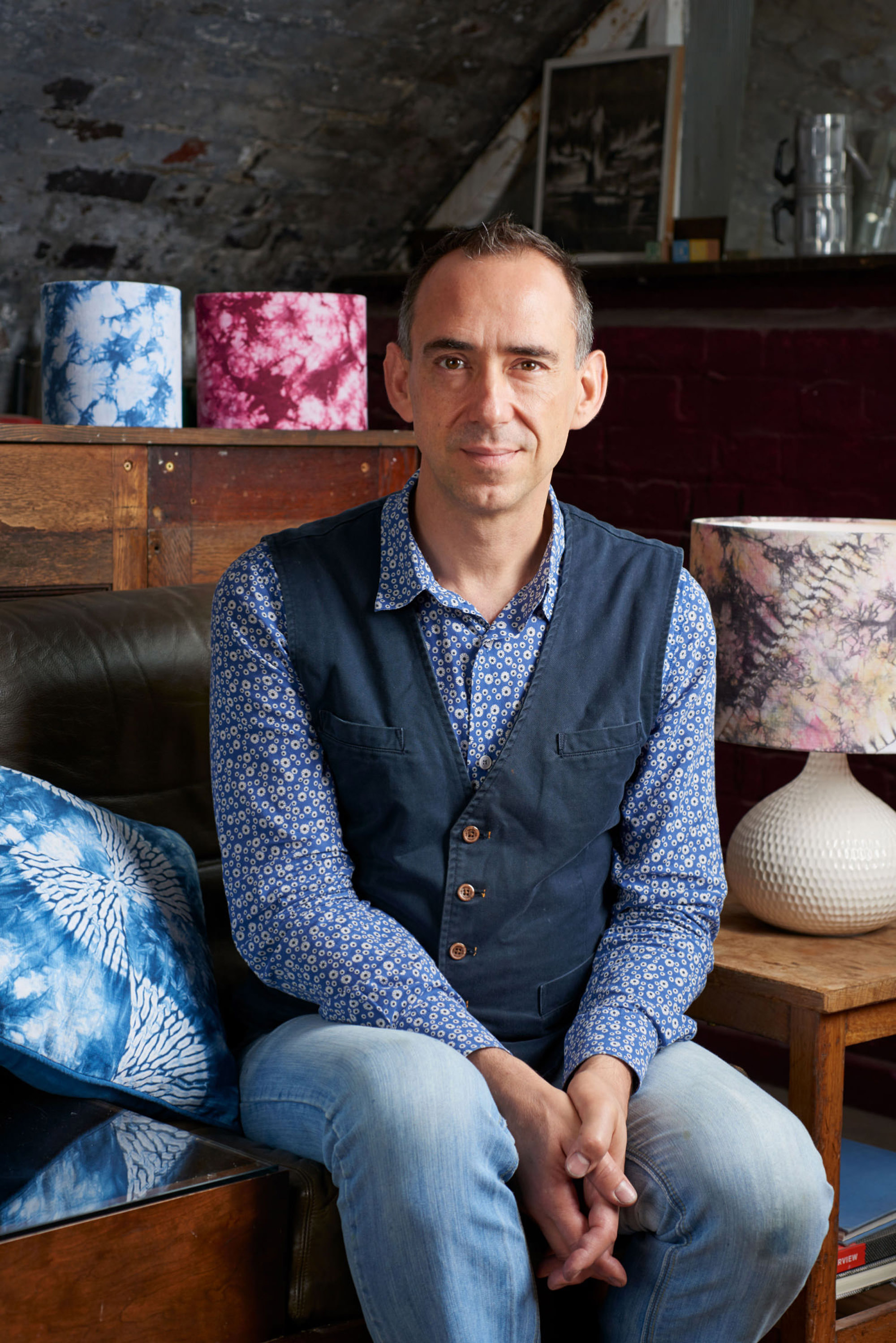 Your organiser, Rob Jones
I've been a fan of Bryan's work since 2012 when I first came across his amazing blog and did his class in 2014. Thanks to Bryan's encouragement and support I changed careers to become a full-time textiles designer working with Japanese indigo and natural plant dyes, making my own Japanese inspired textiles using Shibori, Katazome stencilling and Sashiko embroidery. I've been practising Shibori for seven years now and I teach Beginner's classes in the UK, working out of my studio under an old railway arch in Hackney. I take a lot of my inspiration from geometry and intersections and I enjoy taking traditional patterns, breaking them and re-piecing them using patchwork. I love Japan and working with Bryan is always a pleasure as his knowledge of Japanese textiles and culture is extensive. I'm looking forward to working with him again on this class. It's still by far the best trip I've ever made!
Itinerary
Rob will meet you at the the lobby of the Century Southern Terrace Hotel in Shinjuku at 18.00 on Saturday 24th October for a walk around Shinjuku and dinner to introduce you to Tokyo. The hotel will be the main meeting point in Tokyo so you may want to arrange to stay at there as this will make it easy to meet at the appointed times.
As an introduction to Tokyo's textiles Bryan will meet us on the Sunday morning at 10am for a full day guided tour in Tokyo. We will visit a few textile antique shops, the Japan Folkcraft Museum and some other cultural and…..shopping places.
Then, on Monday at 10:00 Bryan will meet us at the the lobby of the Century Southern Terrace Hotel in Shinjuku and from there we take the train to Fujino (one hour) and then a ten minute drive to the quietness of the mountain village. After unpacking you will be welcomed by a typical Japanese lunch prepared by Bryan's neighbors and friends.
Typical farmhouse meals.

Everyone is excited about being in Japan and their projects. Breakfast seems to be the only time that everyone will sit still for any length of time. So every morning we will take a half an hour to an hour after breakfast to discuss aspects of Japanese textiles and indigo.
The first talk will be about Japanese shape-resist dyeing, shibori . For each step of the dyeing process Byran will share 20 years of experience of working with indigo. By the end of your visit you will have a clear understanding of how indigo works with different kinds of dye vats and the reaction of indigo with different kinds of fabric.

The next after-breakfast-table-talk will be about stencil dyeing in Japan. We will visit Bryan's katazome teacher at his working studio on a sunny day. (We need sun to dry the paste quickly.) You will not only witness the astounding techniques and skills but the values and aesthetics that make Japanese textiles so interesting. This will also be an opportunity to learn more about and use (and smell) naturally fermenting indigo.
The view from the top of the village.
You are welcome to bring a small amount of your own cloth to dye. In the past Bryan invited you to bring all you want to dye. People show up with huge suitcases packed with things to dye. This was fine and actually a lot of fun. The problem was Bryan was spending too much time as a dyeing consultant and it was distracting to have maniacal indigo dyers outside at the vats until 3:00 am! (Not kidding.) Please be reasonable with the amount of fabric you bring. There is plenty here. We never ever run out of things to do and material to dye in the workshop!
We will also have two outing days to to give us a break from the mountain scenery. One will be to the indigo studio of Mr. Noguchi in Hachioji not far from Fujino and, for the other. After leaving Bryan's Rob will take you on a trip to Tokyo to visit Nippori (Tokyo's fabric district), Seiwa craft supplies shop and Morita Antiques. If there is time we will also make a stop at Pigment, a brilliant art supplies shop in Shinagawa.
Front entrance to the farmhouse

There is a wonderful delivery service in Japan that will have your suitcases delivered to the airport (must be posted two days in advance) or next day delivery to your next destination in Japan.
Where we are staying
The house sits on a relatively steep hill. It is not exactly ramshackle but it was originally a barn...The guest rooms on the third floor were completed five years ago. The rooms are comfortable and cosy. There are two bathrooms on the ground floor and two showers/bath on there as well. There is WiFi at the farmhouse. The staircases are not long but relatively steep.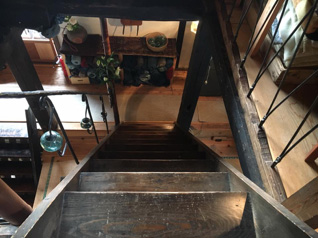 There are healthy snacks and drinks and fruit in the kitchen at all times. If given notice in advance Bryan can try to accommodate some diet restrictions. Vegetarians ok.
Bryan has lived close to being a vegetarian himself with a few allergies in adult life. He is sympathetic to dietary needs. We have tried over the years to accommodate all the food issues. We are sorry but allergic-to-everything vegans...this is not the workshop for you. On the small scale of the live-in workshops it is simply too difficult for us to handle really specific dietary needs. Gluten free ok.
Breakfasts are simple: eggs, toast, cereals, fruits and yogurt, good coffee and tea. Food is an important part of the workshop. Simple with almost no processed foods is policy. We try to vary the Japanese meals with the fusion/western meals. No smoking in the house itself. Washing machine runs everyday. It is cool in spring and autumn so a warm sweater and your favorite warm socks are necessary.
Homework
Most shibori techniques take many hours of preparatory stitching and binding. Our time is limited so Bryan will send each member of the workshop a small box with several shibori homework pieces to prepare five weeks before your arrival in Japan. The homework box will also contain some persimmon tannin paper and a special cutter-knife for you to cut katazome stencils.
Indigo
Indigo is central to these workshops. Indigo has been used in Japan since the sixth century. There are over 25 different plants around the world that have the indigo pigment in their leaves. Every culture developed its own processes of extracting and utilising the pigment from indigo (indigoferin) As the essential pigment properties are the same, in each plant the processes follow similar steps.
Although indigo has limitations, dyers have developed techniques that have allowed them to utilise the pigment to its fullest potential. Historically, the Japanese have used of indigo dyed thread in concert with woven patterns, stencil dyeing techniques (katazome) and shape resist dyeing (shibori). These methods reached their most sophisticated heights in the top-end samurai and merchant class textiles as well as in the domestic and local crafts traditions of the Edo period.
The best way to expose students to the use of indigo is simply use it.
*You will learn to make and maintain a non-fermented indigo vat.
*You will look at many examples of Japanese indigo-dyed cloth and discuss how they were made.
*You will look at several contemporary Japanese indigo dyer's work and see how indigo dyeing traditions continue in contemporary Japan.
Shibori
Although shibori, often categorized and translated as 'Japanese tie-dye,' is actually much more sophisticated than just the term 'tie-dyed' cloth. Shibori has a 1300 year history in Japan of being a dignified, poetic, and even humorous textile surface-design family of techniques. Highly addictive.... We will look at the ingenious techniques and try a few out. (Not necessarily the techniques pictured below!) The play of the resist with the mercurial properties of indigo will make you smile. And, the potential combinations of techniques will keep you awake at night, wanting to sneak out for a midnight tryst with the indigo vat.
We will use several techniques to make a dozen tenugui Japanese towels and one large indigo cotton shawl. You are welcome to use the indigo with your own experiments with shibori in the evenings and mornings. Bryan can supply cloth or you can bring it from your home countries. Bryan prepares a reasonable-sized mountain of cotton material for the participants to use.
Katazome stencilling
Katazome is a paste resist family of stencil techniques. Kakishibugami is a layered persimmon tannin soaked paper that was developed to use as stencil paper in Japan. When wet it is like a soft leather, flexible and strong. The pattern is cut out with a razor-like knife or punched out with a variety of tools. Single pattern stencils are common. Patterns using up to 40 overlapping stencils are also used. The variety of patterns on these stencils is mind-boggling. We will cut out some simple stencils and use them for this resist dyeing technique. This will expose you to the huge genre of surface design methods used since ancient times in Japan. Bryan will send you several sheets of the paper for you to sketch and cut out before you arrive in Japan.
Costs
380 000 Japanese Yen
Exchange rate as of today's (30/09/2019) publication:
GBP = £2,850
USD = $3,500
EUR = €3,200
CAD = 4,650
AUD = 5,200
Fee includes:
*All fees for the workshops include materials.
*ten nights accommodation at the farmhouse, double occupancy.)
*All breakfasts.
*Lunches at the farmhouse
*All transportation in Japan. From the time we meet on Sunday morning until and including the return train tickets back to Tokyo station on the last day. Including excursions Tokyo. NOTE: Excludes Japan Railpass.
*Folkcraft Museum Entrance fee
*Cost of Indigo workshop in Hachioji.
*We have plenty of beer and wine at the house but if you are a heavy drinker or have some expensive taste in alcohol there is a liquor shop not far away!
Excludes:
*International airfare
*Hotel or Guesthouse in Tokyo on 9th and 21st November
*Internal travel inside Japan. Rob can arrange for you to have a Japan railpass which covers intercity journeys and a lot of cross Tokyo trips
*Travel Insurance
*Restaurant meals. Some dinners will be decided on that particular day according to how we feel. Dinners in are covered. Dinners out are not covered. All restaurants will be reasonably priced.
*Further travel, hotels etc for siteseeing.
Gallery
Click image to see next picture…